Earlier this month, some of the team headed to Woomera for the historic landing of the Hayabusa II satellite. Below is an account of the week from Sumen Rai, Manager Defence Science and Technology, South Australian Space Industry Centre. 
We acknowledge that the areas visited by the SASIC team are on the traditional lands of the Kokatha people, and we pay our respects to their Elders, past and present.
ON THE ROAD TO WOOMERA
Woomera. The name itself raises complex associations in the minds of Australians, including its prominent role in the early development, testing and launch of rocket technology in Australia. More recently, Woomera has added to its space legacy by being the landing site for the first and second-ever sample return missions to an asteroid.
On the morning of Friday, 4 December, four of us from the South Australian Space Industry Centre SASIC) began our 500km journey to Woomera to meet with colleagues from Japan Aerospace Exploration Agency (JAXA), the Australian Space Agency and the RAAF, and to witness the return of the Hayabusa II capsule.
Above us, Hayabusa II was about to complete its six-year, five billion kilometre primary mission by jettisoning the tamatebako (treasure box) of samples from the asteroid Ryugu, before heading off on an extended mission to visit asteroid 1998 KY26.
In keeping with the space theme, Jeff Wayne's War of the Worlds played in our car as we drove north.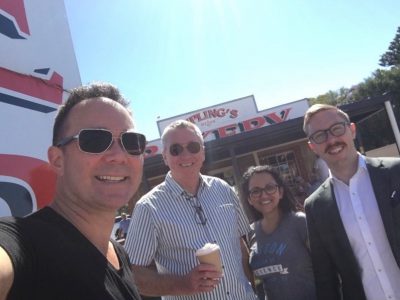 No trip north from Adelaide is complete without a bakery stop at Pt Wakefield.
L-R: Darin Lovett, Reg Carruthers, Sumen Rai and Julian Tully (Photo: Darin Lovett)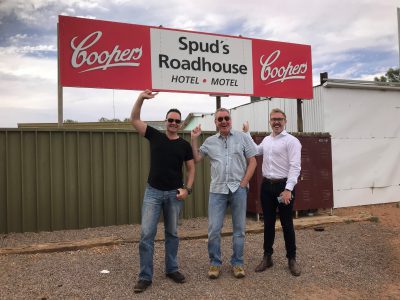 The team stop at the historic Spud's Roadhouse, only 5 kilometres out of Woomera.
L-R: Darin Lovett, Reg Carruthers and Julian Tully (Photo: Sumen Rai)
THE CAPSULE RETURNS
Saturday started off with grey skies, chilly winds and rain – certainly not what we had expected to encounter in the Australian desert in mid-December, and also worrying for the potential implications on the landing of the capsule.
We took the opportunity to visit the European Launcher Development Organisation (ELDO) launcher site adjacent to Lake Hart, one of the most significant space-related sites in Woomera, active between 1964 and 1970 and the birth place of our space heritage. We also took the opportunity to visit the RAAF Base and airfield at Woomera and observes some ongoing trials with the Woomera Test Range staff.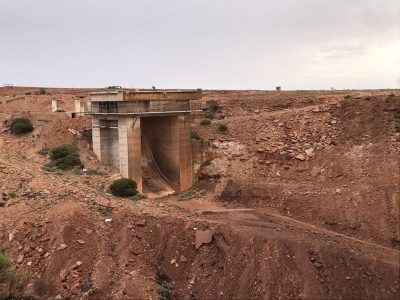 ELDO Launcher site LA6A (Photo: Sumen Rai)
At dusk, we drove to the Range Control Centre (RCC), which housed JAXA's mission control for the landing. The re-entry was due to commence at around 4am local time, and the hours in-between seemed to pass quickly with many formal and casual conversations with colleagues from the Australian Space Agency, RAAF, and JAXA about everything from international collaboration in research and development, photography and South Australian wildlife, to JAXA's MMX mission, which includes, amongst other objectives, a sample return from the Martian moon Phobos.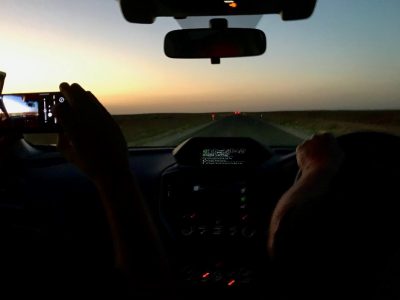 Driving at dusk to the Range Control Centre.
We only encountered one kangaroo and it bounded off without incident (Photo: Sumen Rai)