The South Australian Space Industry Centre (SASIC) drives space industry innovation, research, and entrepreneurial growth in South Australia, with a vision to create a thriving and enduring space ecosystem.
Home to the Australian Space Agency, Australian Space Discovery Centre, world-class Mission Control Centre, Australia's first two launch facility licences, state-owned EO satellite Kanyini and the future Australian Space Park space manufacturing hub, South Australia continues to add to the nation's list of space industry firsts.
With more than 100 space-related companies operating in the state and growing, South Australia is a centre-of-gravity for Australian space activity and provides a whole-of-state-government focal point for local industry and international organisations to connect with the state's burgeoning space sector. SASIC drives engagement with international partners, providing opportunities for business and research organisations to collaborate with local industry to help realise the potential of the global space sector.
Dedicated to supporting Australia's national space strategy, SASIC is committed to exploiting disruption, harnessing innovation, and unlocking NewSpace opportunities to ensure South Australia remains at the forefront of Australia's space endeavours.
The space industry in South Australia represents
MILLION DIRECT VALUE-ADD TO ECONOMY
INDUSTRY GROWTH RATE (2017-2021)
ANNUAL GROWTH RATE IN NEWSPACE SECTOR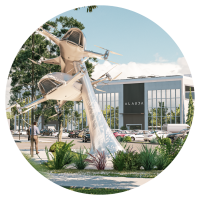 Australian Space Park
Australia's first dedicated space manufacturing hub, the Australian Space Park, will accelerate sovereign space manufacturing capability and capacity within a purpose-built facility. With a focus on collaboration and production of small satellites and their payloads, rockets, electric vertical take-off and landing vehicles (eVTOL), the site will also include a Common User Facility providing space manufacturers with access to facilities capable of small satellite and component manufacturing, with potential to upscale.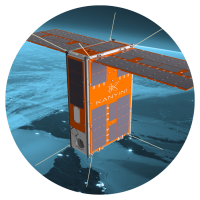 Australia's first state satellite
The South Australian Government is partnering with the SmartSat CRC and local companies Inovor Technologies and Myriota to send a locally manufactured small satellite to low Earth orbit — the first State Government to ever embark on such a mission. SASAT1 Space Services Mission — named Kanyini — will strengthen the competitiveness of South Australian businesses in the small-satellite supply chain and pave the way for external investment and future growth in Australia and abroad.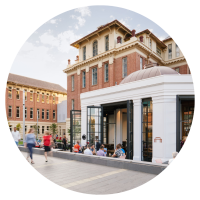 Defence & Space Landing Pad
The Defence and Space Landing Pad is a one-stop-shop that supports the relocation of international companies to South Australia. Located at Adelaide's Lot Fourteen innovation district, a growing number of space companies are accessing the landing pad as a grounding for their expansion into South Australia, taking advantage of the short-term office facilities, support, advice and relationship building opportunities provided.
Explore South Australia's space-related organisations
South Australia's thriving space industry consists of more than 100 space-related companies, research and educational institutions, government departments and private companies—from multinationals to local SMEs and start-ups.
The Space Industry Directory provides a snapshot of the South Australian space community, featuring key information about the innovative organisations and institutions contributing to the state's vibrant space ecosystem.